With regularity manufacturers claim to have produced a new innovation that will revolutionize the performance of their TVs. Sharp LED LCD TVs have a unique characteristic which is fundamentally different to other brands of televisions. Rather than it just being a minor enhancement which the marketing team has over over-hyped in order to increase sales, Sharp Quattron TVs have one big difference to other TVs, their LCD panels have four sub-pixels instead of the usual three. Typically the pixels in and LCD display have three sub-pixels, one for each of the primary colors – red, green and blue. Sharp LCD TV models have four sub-pixels because of the addition of a yellow sub-pixel.
Why do Sharp Televisions Do Things Differently?
Have you ever read a TV review where it has been reported that the colors produced by a TV are said to have either a green or red unwanted hue to them? This is because in order to display yellow, an LCD panel must combine the green and red sub-pixels in the correct proportions to produce the desired shade. Unless done perfectly, the result can be that the images produced are biased towards either red or green. Because Sharp LCD TVs include a yellow sub-pixel, all shades of yellow can be reproduced more accurately as well as golds, browns and skin tones.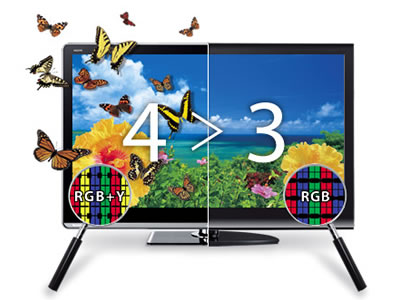 Sharp electronics may not be as prominent as other brands in the home entertainment sector, but Sharp TV models stand up to the competition well. Sharp TVs primarily place their emphasis on picture quality, but they also have slim, stylish and well constructed designs. A common feature which is frequently sacrificed by many manufacturers in order to produce the thinnest TVs possible, is the inclusion of a decent speaker system. All too frequently slim televisions only have space for lightweight speakers that produce poor sound quality, Sharp TV designs leave enough space for the inclusion of a sub-woofer so that the sound lives up to the picture performance.
As well as sound and picture quality, Sharp LED TV favour well in relation to energy efficiency with low power consumption and power saving features to match other leading brands. So next time you're browsing the newest models in your local TV store, take time to consider Sharp Aquos Quattron LCD LED TVs and see for yourself how big a difference the four color pixel technology makes.