The Panasonic VT50 or PVT50 series presents plasma screen televisions in the mid to upper range of Panasonic's well-known line up. The televisions produce excellent picture quality, even in a bright room, and come with a price tag a bit less than competing LED LCD models. The plasmas do not deliver the superior value of Panasonic's mid-level models and there are some issues with 3D performance. For more information about the Panasonic VT50 series, read my full review below.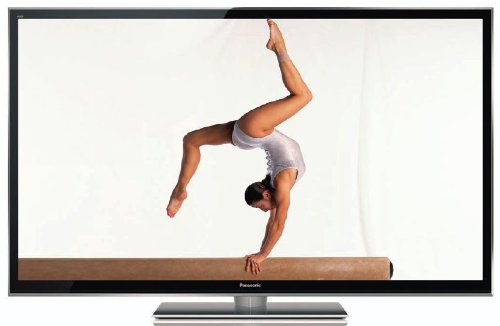 Available Models
The VT50 is available in two different display sizes.
Panasonic VIERA 55 inch VT50 Series 3D Plasma Smart TV – TC-P55VT50
Panasonic VIERA 65 inch VT50 Series 3D Plasma Smart TV – TC-P65VT50
Overall Picture
As previously stated, the PVT50 series delivers excellent picture quality that beats most comparable LCD and plasma televisions on the market. The screens have the ability to reproduce deep black and bright colors and provide surprising performance when it comes to off-angle viewing. Industry experts are calling this series the best performing plasma screen of the year. In fact, the Panasonic is being compared to industry high marks like the 2008 Samsung PNE8000, which has long been considered the top plasma on the market. Although the Panasonic keeps up with these industry giants stride for stride, it does come out ahead in superior off-angle viewing, which is the norm for a plasma screen.
Black Levels
Black levels on the PVT50 screens are almost, but not quite, zero. They measure lower than almost any plasma screen available today and deliver inky darkness and shadow contrasts that make viewing more pleasant and clear. With extremely dark, fast moving scenes, some higher end models such as the Sharp Elite, perform slightly better than the Panasonic, but this is only noticeable in a side-by-side comparison and most viewers will not be able to discern any issues with black performance at any level.
Color
Expert tests and consumer reviews have noted that the Panasonic PVT50 is by far the best plasma available when it comes to color reproduction. It even out performs the Samsung and Sharp models that held the plasma crown for so many years. The strength of the PVT50 over models like the Samsung PNE8000 is that the PVT50 does not default to a blue hue in certain color situations. Any color inaccuracy was all but imperceptible to the human eye.
Bright Viewing
Probably one of the most startling performance strengths of the PVT50 line can be seen when viewing the picture under the lights. Unlike matte screens and LCD televisions, standard plasmas are notorious for poor bright room viewing. However, the PVT50 turns in one of the best performance of a non-matte television, delivering crisp color and picture accuracy that competes with many LCD televisions on the market. The PVT50 is definitely better than lower end televisions of anytype when it comes to bright room viewing, especially when it comes to reproducing black levels in this atmosphere.
3D TV
On default settings, the PVT50 is a poor 3D television. However, by changing advanced picture cinema settings to 48Hz, you can correct much of the crosstalk that appears in a 3D image. With this setting change, the PVT50 becomes at least an average 3D television and will work for more family viewing situations. The standard glasses you can purchase for the Panasonic line seem to fit and perform better than other brands, but the overall 3D performance of these televisions is not quite up to standards set by high end Samsung models.
Design
In a continuing effort to compete with the gorgeous televisions produced by manufacturers like Samsung and LG, Panasonic has carried its recent, modern look into the PVT50. A pane of glass covers the screen and frame, creating a single surface against a bevelled silver edge. The PVT50 would look phenomenal mounted against a wall in home theatre rooms or living spaces, although the comparatively cheap looking stand does leave something to be desired for table mounting.
Panasonic provides two remote controls, allowing viewers a choice in their browsing and control options. A standard remote matches Panasonic's traditional style and a more modern touch pad remove allows for increased mobility when using Smart TV functions or perusing Netflix.
Smart TV
Panasonic keeps its signature simple layout with the PVT50, but they did add a few functions to keep the product competitive. Social networking, Vudu, Netflix, Pandora and Shoutcast round up some of the options available through Panasonic's Smart TV menus. Panasonic also offers the Viera Market, where you can download free apps, purchase apps and purchase speciality items and gear for your television.
Panasonic VT50 Review Summary
The Panasonic PVT50 definitely provides value for your money, depending on where you purchase the product. Prices for these models vary between $1,400 and $2,800 depending on size of display and purchase location.