Available in a size range that starts at 50 inches, the Panasonic TC-PST50 has been called one of the best mid-level priced large screen televisions on the market. The television is 3D capable and features a quality plasma screen with superb black levels and excellent color detail from most angles. For more information about why the ST50 is a great choice for home theater environments, read my full Panasonic PST50 series review below.
Panasonic ST50 Available Models
The ST50 provides a big movie, television and gaming experience. To that end, available sizes range from 50 to 65 inches and provide four models from which to choose. The information in this review applies to all four models, which are:
Panasonic P50ST50 – 50 inch Plasma TV
Panasonic P55ST50 – 55 inch Plasma TV
Panasonic P60ST50 – 60 inch Plasma TV
Panasonic P65ST50 – 65 inch Plasma TV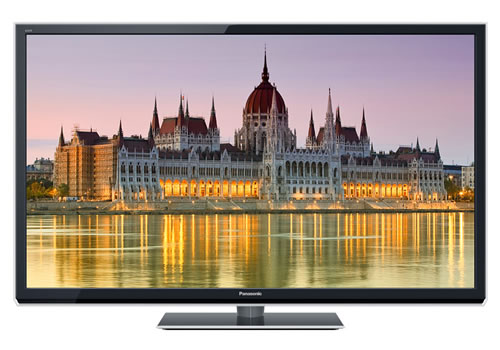 Panasonic ST50 Video Performance
The overall video performance of the Panasonic ST50 drives the best in-class television designation that this series is receiving from consumer magazines and websites. Video performance in a bright room, although not quite to the level of matte-screen LCD televisions, is the best offered by any plasma screen currently available. The ST50 line competes easily with any other plasma screen available, and even rises to the level of Sony's popular LED-based LCD models.
The ST50 boasts HDTV capability with up to a 60 Hz refresh rate. Panasonic has also added dejudder processing technology to its television lines in order to smooth out imaging. This brings the video performance of the plasma screen up to the level of current LCD televisions in most situations.
The 2D picture on the ST50 provides ample brightness and accurate color. Although the picture quality is not quite to the level of a reference screen, it is hard to find fault in the ST50 when it comes to home entertainment value. When moving into the 3D viewing space, however, the ST50′s performance is a bit lackluster. Crosstalk becomes a slight issue in 3D viewing, although most people would not consider it enough of a hindrance to detract from the otherwise superb performance of the television. Unless you find a package deal, you may have to splurge for a pair of 3D viewing glasses in order to make use of the active 3D technology incorporated into this plasma television.
Panasonic ST50 Black Levels and Color Reproduction
As previously stated, the ST50 delivers excellent and accurate color reproduction. With the exception of extremely bright rooms, the color performance of this plasma matches or exceeds many of the LCD televisions on the market. An improved screen filter over previous Panasonic models delivers a cleaner picture. Unlike the primitive plasmas of a dozen or so years ago, the ST50 delivers deep black levels and detailed shadows without ghosting.
Although it is difficult to reach the level of color reproduction seen in LCDs in a plasma screen, one benefit to plasma is a better off-angle viewing experience. The ST50 does not disappoint in this area, making it a great choice for flexible seating arrangements or odd shaped rooms.
Panasonic ST50 Design
The design of the ST50 shows a distinct improvement over past models. New engineering and technology produces sleek panel less than two inches in depth. The edges of the frame are highlighted in hard transparent plastic reminiscent of high-end Samsung and LG models. This gives the entire television a more contemporary and stylish edge. Angling on the bottom and corners sets the Panasonic apart from similar televisions, and they even jazzed the remote up to present a more modern and luxurious look. Backlighting on the buttons makes the remote easier to navigate, and different sized keys helps you locate your function even in a darkened room.
One area Panasonic did not apply their design time to is the on-screen display, which greatly resembles their older models. They did add a robust help menu, but did not change any other display. All menus are displayed in a yellow font on blue background, a design choice that barely brings the display out of an archaic DOS look. Although the menus look outdated, they do provide functionality and ease of access to the user. Some color and display options are limited compared to other televisions, but the options that are present are easy to navigate to and use.
Panasonic ST50 Connectivity
The ST50 features three HDMI inputs as well as USB capability. Equal caliber televisions from other manufacturers almost all come with four HDMI inputs, but the ST50 makes up for the missing connection with an SD slot for media. Out of the box, the television comes with a set of cables to support an analog component. The lack of a fourth HDMI input should not be a deal breaker, especially given the coveted SD slot. You can always add an extra switch for additional HDMI capability if you intend to hook up multiple components on a permanent basis.
Panasonic ST50 Internet and Smart TV Capability
The ST50 offers Panasonic's easy to access Smart TV interface. The basic screen makes navigation fast and simple, if not state of the art. You can also customize your selections in order to position most-used applications in prominent locations. Out-of-the-box selections include a new social media app that combines interaction on Facebook and other sites with television viewing. The television also features a new web browser and video watching components like Netflix. The audio area of the Smart TV interface is a bit lacking when compared to Samsung and other models. A few radio and karaoke apps are available, but Panasonic intends to offer additional options in future updates.
Panasonic ST50 Series Review Summary
The Panasonic ST50 Series starts around $1,400 (recommended retail price), which is a highly competitive price for quality televisions in that size range. The fact that this best-in-class plasma television delivers accurate color and detailed picture that rivals many more expensive LCD sets makes it a great choice for your home entertainment center. Internet capability, an in-TV web browser and easy to use functionality combine to make the ST50 an all-round great package.