The Panasonic TC-PGT30 produces stunning picture quality. Firstly, unlike an LED TV which requires backlighting which is prone to producing an unevenly lit display, you would expect a top plasma to produce a perfectly uniform illuminated display, in this regard the GT30 does not disappoint. It produces deep blacks which act like a canvas on which super fine details can be painted and the GT30's color reproduction is vibrant and natural.
With their new neo–plasma panels the performance of the PGT30 has been enhanced compared to previous generations of Panasonic Plasma TVs. The faster reaction times of the Neo plasmas means that fast paced action is now even more super-smooth and any 3D crosstalk has been virtually eliminated so that no ghosting of 3D objects occurs.
The following will run through all aspects of the Panasonic GT30 video performance, read on to find out more.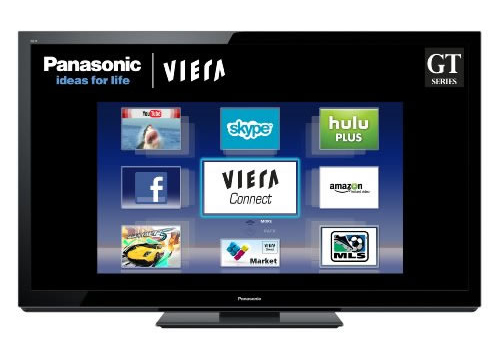 Panasonic GT30 Black Levels
The GT30 produces fantastically black levels that are on a par with the Panasonic GT25 which was the previous top-rated model which the GT20 replaces. It also very marginally out-performs the Panasonic ST30 by producing slightly darker blacks (as you would expect because the ST30 is slightly cheaper).
Overall the levels of blackness are very dark and even which enable very detailed contrast to be displayed.
Panasonic GT30 Color Accuracy
I found the color reproduction of the GT30 to be very good, it is very adept at producing wonderfully natural and vivid colors. Combined with the deep blacks it results in some ultra impressive viewing which is pretty much as good as anything I've seen. I unable pick out any unwanted bias or hues of green or red which I have seen present in other inferior plasmas.
Panasonic GT30 3D TV Performance
As already mentioned the faster reaction times of the GT30's new Neo Plasma technology have had a positive effect on reducing 3D crosstalk so that becomes virtually undetectable. It compares very well to both the equivalent 3D LED TVs and other 3D plasmas.
For those of you who don't know, Panasonic use active Full HD 3D TV technology (as opposed to passive 3D), this means you will get the full 1080p resolution in 3D mode. The down side to this can be that the active shutter 3D glasses can cause a dimming effect which is counter balanced by upping the brightness. Sometimes this causes 3D content to appear slightly washed-out with poor contrast levels. However, in this regard the GT30 faired very favourably, as the levels of blackness still remained very dark.
As mentioned in the Panasonic ST30 review, the 2011 Panasonic Plasma TVs don't include 3D glasses as standard. If you have no intention of using the 3D capabilities of the GT30 3D TV then this could be considered a plus point (what's the point of paying for the 3D glasses if you don't use them). However if you do want to use its 3D capabilities, if you shop around there are offers to be found which include the 3D glasses in a bundled deals from 3rd parties.
Also the good thing about Panasonic 3D glasses is that they are inter-compatible with previous generations of TVs, so if you already own a Panasonic 3D TV you should be able to use your existing 3D TV glasses.
Panasonic GT30 Design
The design of the GT30 is a big improvement on past generations of Panasonic plasmas which were rather plain and unimpressive. Now, there will still be some critics who regard the GT30 as having an unspectacular design. Whilst the GT30 might still be a bit unspectacular, you certainly couldn't describe it as lacking quality and style. The GT30 has a thin profile of only 1.5 inches, the bezel around the display measures 1.5 inches also, and it has an impressive overall build quality typical of Panasonic TVs. The black minimal design with silver trim oozes class in my opinion. Finally the swivel stand has a low profile and feels very sturdy.
Panasonic GT30 Usability
The menu system of the GT30 are uncomplicated and fairly logical, you shouldn't have any problems navigating around them when used with the remote control which could also be described as functional and well designed.
The display of the GT30 is coated in an improved antireflective film which seems to reduce any unwanted reflections and improve darkness and contrast levels.
Features of the GT30 include THX certification which can be activated using two of the GT30's 6 preset picture modes, one preset for each of 2D and 3D THX viewing. Panasonic have added a Motion Smoother setting which basically adds the ability for de-judder processing (a feature that divides opinions). There are also preset modes for color and gamma along with gray-scale control.
Panasonic GT30 Connectivity
As is the case with the ST30, the GT30 also has all the connectors you should ever need, including 4 HDMI inputs, 1 composite input, 1 component input, RF and optical.
As well as this the GT30 has a SD memory card slot for viewing your digital media (movies, music and photos). There are 2 USB slots, PC video input, ethernet port and 2 x USB connectors. The GT30 includes a Wi-Fi dongle (saves you having to spend $75 buying one!) so that you can connect to the internet using either ethernet or Wi-Fi whichever suits you best. This leads me nicely on to the next part, internet / Smart TV.
Panasonic GT30 Smart TV
So you've hooked your TV up to the internet, what services can you access with the GT30? The answer is a lot more than you could with last years Panasonic internet TVs. Panasonic have redesigned (and rebranded) their internet suite so that there is now an almost complete set of Apps to choose from. Viera Connect as it is now called, provides connectivity to Netflix, Amazon Instant, Facebook, YouTube, Pandora, and Skype to name the big apps here. Other notable additions include Fox sports, Shoutcast internet radio, Picasa, Napster to name just a few.
It's also worth mentioning that the GT30 (at the time of writing this) includes a free Skypecam which was previously an optional extra.
In summary, I find Viera Connect Internet TV to be massive improvement. It uses well designed, logical menus which are responsive and as your can see from above it is has a wide range of apps and widgets to choose from. Oh, and the free SkypeCam and Wi-Fi dongles are a real bonus!
Panasonic GT30 Review Summary
The GT30 produces picture quality which is up there with the best TVs in this price bracket. It produces deep blacks and natural colors. The 3D TV performance is better than most of its competitors thanks to the improved NeoPlasma technology. The Smart TV features are at least as good as Samsungs and better than the rest of the pack. The only negative is that it doesn't include any 3D glasses, but then again you can probably find deals from 3rd parties that do include them, and the free Wi-Fi and Skype-cam make up for this anyway. In my opinion, if the GT30 is within your budget you'd hard pushed to find a better way of spending your cash.