With so many options available in the TV market, things are set to get even more complex with future developments such as the Samsung OLED TV. The OLED television is set to radically change the face of the home entertainment market. This leaves consumers currently considering purchasing their next TV facing a bit of a dilemma.
The fast pace at which the world of TV and electronics moves is nothing new, its only to be expected that the manufacturers will continue to gain the upper-hand by inventing new bigger, better models simply because of the fact that the market is so massive and worth so much money that if they don't invest heavily in innovating new technologies that they will be left behind.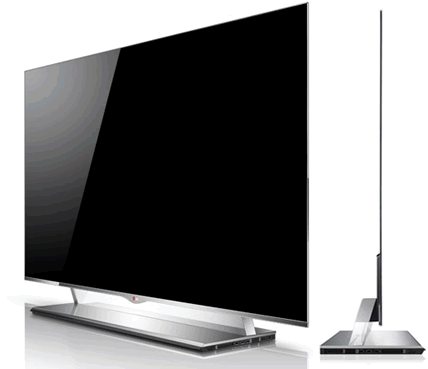 However for the consumer who likes to be the proud owner of the best or latest models available it is becoming increasingly more tricky and expensive to keep up with the pace. And let's face it, for the average person a television is a considerable investment. This is especially true when buying the main TV for your home when you might be looking at spending large chunk of you monthly salary or in some cases a lot more. This is why it's worth taking stock and carefully considering your options before making any choices regarding you next purchase.
For a long period the consumer's main decision came down to whether to opt for either an LCD TV or plasma TV. Of course this is over simplifying matters with the many models and features that are available, but at the end of the day it was a relatively simple compared to today's choice. You could say that in the early days that the LCD TV came out on top being the popular choice and the bigger commercial success. This was largely because of affordability of the LCD with it being the cheaper option whilst still producing great results. But for those consumers who wanted the best quality and had sufficient budget then there was the option of the plasma TV.
But in more recent times the LCD has caught up with the plasma in terms of picture quality due the introduction of various technologies that have enhanced its capabilities. In particular LED lit LCD TVs or as they have become more commonly known the LED TV have made the quality gap negligible. To explain this and avoid any confusion, basically the LED TV is just an LCD TV that utilizes LEDs as is its light source rather than fluorescent lamps. The LED TV has two variations the edge lit LED TV and the backlit LED TV. It is the second option of the backlit LED TV that closely matches the performance of the plasma TV.
The success of LED televisions resulted in Samsung exceeding its sales targets for the Samsung LED TV in 2009 and predicting even more impressive figures for 2010 as well as expanding its range of LED televisions. It is for these reasons that some manufacturers are ceasing production of plasma TVs.
As well as the introduction of LED TVs we now also have the option buying a 3D TV. It was not until recently that this has become a realistic option because of the lack of media that 3D TVs could be utilized for. But with the emergence of 3D BluRay, the release of major Hollywood 3D movies, 3D games consoles and the fact that major TV broadcasters now broadcast 3D TV channels there are now all of a sudden many ways to utilize a 3DTV. This is only set to improve further with the release of many more 3D movies and 3D TV channels coming online in 2010.
So with the consumer faced with a multitude of choices already, are we ready for even bigger changes?  Well regardless of whether we are or not it looks like we will be getting one in the form of the OLED TV. For some time now there has been a buzz building around OLED technology and it seemed it was almost on top of us with our LCD and plasma displays soon becoming obsolete. But despite the constant teasing of news coming from the industry with various announcements of planned releases of big screen OLED TVs, we are yet to see anything materialize (well despite the odd prototype that's been released). It would seem that it has taken longer than expected to iron out technical issues relating to quality and reliability with OLED technology than was expected.
It is not until very recently that we are beginning to hear anything concrete from manufactures about planned releases of actual production models. LG have said that they will be releasing two models of their LG OLED TV in 2010. First will come the smaller 15 inch OLED TV followed by the 21 inch OLED TV by Christmas 2010. This may be all well and good to hear, but what about the big screens?
Well finally after a lot of talk it would seem we are a little closer to seeing a more practical model becoming available with the announcement that the Samsung 42 inch OLED TV will go into production for 2011. Why is the announcement of the Samsung OLED TV so anticipated? The invention of the OLED television is truly a revolutionary advancement in visual entertainment. It is a total new technology. Though many genuine improvements were brought to us by the LED TV, it is based on a technology that has been with us for some time – the LCD TV (it is the lighting source that use LEDs and give it its name).
The OLED TV uses a totally new concept, a flexible sheet of organic material forms the display through which an electrical current is passed to produce the light. The material produces the light itself unlike with LCD TVs which require an additional light source. The result is that they produce finer quality images than anything that is currently available for purchase and they also are far more efficient using less electricity.
So taking everything into consideration, if you're faced with the choice of whether or not to spend your hard-earned cash on a TV that's available in stores now or wait until a commercial OLED TV is released, it probably comes down to what your immediate requirements are. If you have a perfectly adequate TV that is currently sufficient for your needs then you might as well keep you money in your savings account and wait until the big screen OLED TVs hit the shelves.
However if you need an upgrade because your current AV setup is out-dated or defunct then there are plenty of great value LED TVs and 3D TVs currently available to purchase. If you're replacing a TV that is a couple of years old with a current model you are still going to see a big improvement over you older set. Also you will have the re-assurance that realistically it is going to take a couple more years until the OLED TV becomes established, the technology improves and the available options and competition increases which will make the prices more competitive than if you were to buy immediately after the first models are released. There has been no mention of the Samsung OLED TV price as of yet but is likely to come in at a premium.
——————————————————–
Now we are beginning to see some interesting break-through applications and capabilities of OLED technology. OLEDs (organic light emitting diodes) have been actively developed for products and applications since about 2004, with Samsung leading the way and currently holding more than 600 US and 2800 international patents. While LG and Sony are becoming innovative leaders in utilizing OLED technologies into applications and products, Samsung produces more than 40% of the global supply of OLEDs as well as over 97% of the global production of AMOLEDs (active matrix OLEDs).
Until 2010, OLEDs had been used mostly in applications such as small, portable displays on PDAs, mobile phones, informational displays and watches. Although AMOLEDs are more expensive and much more difficult to create than PMOLEDs (passive matrix OLEDs), they can be used for larger displays (some prototypes are nearly 40″) and are very power efficient. PMOLEDs are generally better suited for hand-held displays. A 19" Samsung OLED TV industrial prototype was recently shown in November 2010 that was produced using new inkjet technology. In the most interesting recent OLED TV news, a 31" LG OLED TV was debuted, it was only 0.29mm thin (the "thinnest in the world") and is set to become available to consumers in 2011.
OLED TV technology is different because an OLED display does not require a backlight or filtering system; it enables deep black levels while being lighter and thinner than common LCD and LED displays. In particular, OLED screens also can have a higher contrast ratio than LCD or LED screens; this makes them ideal in low ambient-light conditions such as dark rooms and theaters.
With their high efficiency, OLEDs also seem to be especially well suited for making lighting systems or individual light "bulbs" that are especially thin and lightweight.  These characteristics open the pathway for unique designs in lighting for homes, businesses and industry. Different manufacturing processes used to make OLEDs yield several advantages over flat-panel displays made with LCD and LED technologies. Potential new OLED applications such as roll-up flexible displays and screens embedded in fabrics or clothing are becoming not just possible, but probable in the next few years.
In summary, OLEDs have come a long way in the last few years. They are already making their way into every day life in PDA and cell phone displays. We can expect 2011 to be a great year for innovation in OLED applications for consumers, with early adopters being able to enjoy the first commercially produced OLED TV models on the market to be in the $2000 to $3000 range.
——————————————
OLED TV Advantages and Disadvantages
OLED TV stands for organic light emitting diode television. From the word organic, it can be deduced that an OLED is using an organic based material like plastic. OLED television technology is an improved version of LED (light emitting diode). LED technology is a semi conductor that emits lights when an electric current passes through it and it is made of crystalline materials – glass. OLED display technology is the next generation screen technology. There are numerous portable devices that have an OLED technology incorporated in it and are very highly regarded. OLED technology has its advantages and disadvantages compared to other television technologies. Here are some of pros and cons of OLED television compared to other television:
OLED Advantages
OLED technology does not require backlighting system to create sharper, better images compared to LCD television which need a backlighting system that in comparison hinder the quality of colors that can be displayed.
The OLED TV technology is environmentally friendly compared to other televisions like plasmas and LCDs.
It is more energy efficient, especially so for portable devices that use OLED technology, therefore the life span of the battery is improved.
LCD television screens cannot produce deep black colors. Unlike OLED television screens which can give pure dark black colors as a result the images look brighter, sharper, and alive.
When watching an LCD television you must be in the right position or else the picture that you are viewing will get blurred since it cannot be viewed from wide angles, whereas OLED displays can offer wide viewing angles. They can give almost a 170 degrees viewing angle.
OLED television uses plastic materials hence they are lighter, thinner and flexible when compared to LCD screens.
OLED Disadvantages
OLED TV has a shorter lifespan compared to other television of its kind.
People with eye problems will have some difficulty watching OLED television.
OLED screens can be difficult to view in bright light.