The announcement of the LG LW5700 3DTV was eagerly anticipated because it is the first 3D TV to be endorsed by third-party certification organisations as producing 'flicker-free 3D TV images'. This LG LW5700 LED TV review looks at the technology and features which are said to produce 3D TV without flicker – a problem which has been at the heart of many criticisms with many past 3D TV reviews.
The unwanted effect of 3D flicker occurs because of the active shutter 3D glasses that have been commonly employed in other 3D TV implementations. The LG LW5700 is different in this respect because it is a passive 3D TV that uses Filmed Patterned Retarder (FPR) technology in conjunction with the 'cinema style' passive 3D glasses to separate the left and right images which are responsible for producing the 3D effects. These types of 3D glasses do not use the active shutters that other manufacturers utilize, and so are lighter and do not produce the constant flickering.
As well as this technology, the LG LW5700 is an LED TV with local dimming and a new feature LG have labelled '3D light boost' to compensate for the loss of brightness resulting from the filtering effect of 3D glasses. Coupled with the inherently wide viewing angles of passive 3D TV and the full suite of LG features such as Smart TV, True Motion and Smart Energy Saving, the LG LW5700 is a formidable force.
With LG LW5700 being the first TV to receive independent 3rd party endorsement for producing flicker free 3D TV, there is now a clear divide that means consumers now have a decision to make between the benefits of both passive 3D TV and active 3D TV.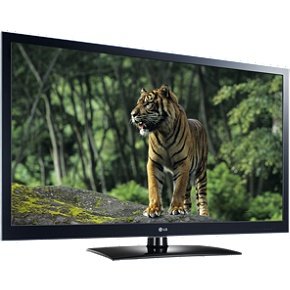 This is crux of the passive 3D vs active 3D debate. Advocates of passive 3D TV will tell you that passive 3D TV does not cause the eye fatigue associated with the flickering and heavy weight of active 3D glasses. Whilst supporters of active 3D TV will tell you that passive 3D TV does not produce the high quality full HD 3D TV experience that active 3D TV does. Both arguments are true, and basically at the end of the day it comes down to personal preference (and possibly cost, because LG passive 3D TVs are cheaper).
In summary of this LG LW5700 3D TV review, there can be no doubt at it's ability to produce both 2D and 3D viewing. When making a choice you really need to experience it's qualities with your own eyes to decide whether you prefer the LG LW5700's easy-on-the eye flickerless, lower 3D resolutions or the full HD 3D of other active 3D models (all be it with some flicker and less comfort).